Company Profile and History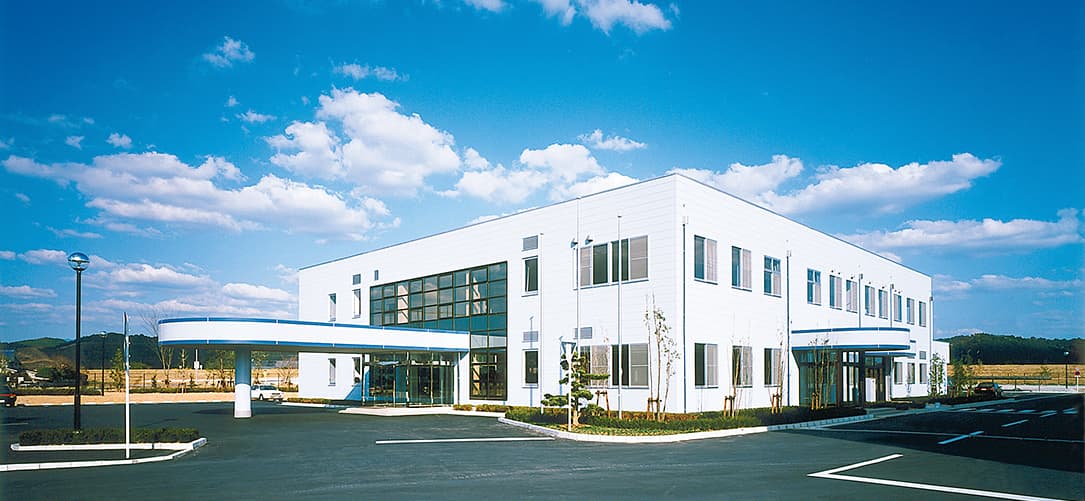 From a clean environment to the world,
Taking off toward the next generation

Hamana Works is fortunate to be located in a beautiful natural environment where we work hard to be a worldwide company gives dreams and hopes to the next generation.
With the clear water of the Tenryu River and abundant forests so close to our facilities, we enjoy working in the best of environments, as seen in our large, well-lit factory, clean design rooms, and a very spacious chassis yard. We set goals not only for manufacturing, but also for the improvement of the environment. We endeavor to achieve these goals just as much as we do the ones we set for the production of top-quality products.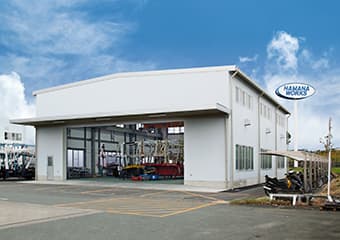 Service facility
A service facility which allows us to give quicker and more substantial service to our customers is located at our head office.
COMPANY OVERVIEW
Company Name : Hamana Works Company Limited
President : Hajime Tamura
Founded : May 1942
Established : December 1948 (truck body industry)
Capital : 70 million yen
Main offices - Factory : 1700-1 Kamijima, Hamakita-ku,Hamamatsu, Shizuoka, 434-0011, Japan
Nagoya branch : 2F-A Tokai Village II, 4-3 Ishimoto-cho, Minami-ku, Nagoya, Aichi, 457-0075, Japan
Main banks : Enshu Shinyo Bank, Shizuoka Bank, Hamamatsu Shinyo Bank, Iwata Shinyo Bank
History
May 1942 : Started manufacturing wood products as Hamana Wood Industries in Kasai-cho, Hamana-gun.
Jul 1948 : Started manufacturing vehicle bodies (4 ton trucks, cabs, and decks).
Dec 1948 : Made organizational changes and renamed the company Hamana Jidosha Kogyo Co., Ltd.
Sep 1954 : Moved main office and factory to new facility in Kasai-cho, Hamamatsu.
Apr 1957 : Started production of heavy-duty truck beds.
Apr 1960 : Started production of custom transport chassis.
Feb 1961 : Started production of dump truck bodies.
Sep 1962 : Started production of pole trailers and semi-trailers.
Jul 1971 : Established Nagoya business operations in Midori-ku, Nagoya.
1974 : Established the Zen Nihon Trailer Kogyo Co., Ltd.
Jan 1983 : Commenced sales of Hamic (wing body truck).
Jun 1985 : Completed Nagoya factory in Odaka-cho, Midori-ku, Nagoya and made Nagoya sales office a branch office.
Nov 1995 : Moved main office and factory to new facilities in Kamijima in Hamamatsu City.
Oct 1997 : Changed company name to Hamana Works Co., Ltd.
Aug 1998 : Began modifying and remodeling large-sized fixed route buses.
Nov 2002 : The company's environment management system was granted the ISO 14001 certificate.
Aug 2003 :Signed a locensing agreement regarding carcarrier trucks with Yangzhou CIMC Tonghua Special Vehicles Co.,L.T.D.
Sep 2004 : Issued first unsecured debenture.
Nov 2004 : Launched a new line of car carrier trailers equipped with independent suspensions and disc brakes.
Jul 2007 : Main factory was completely renovated in order to limit environmental impact and reduce CO2 emissions
Sep 2009 : Started repairing vehicle carriers.
Dec 2010 : Was granted The Occupational Health and Safety Assessment Series (OHSAS18001:2007) certification.
Dec 2010 :Started the development of a 21 meter longcarrier trailer after Hamana Works proposal for the "Special Zones for Structural Reform" was approved.
Sep 2013 : Opened a new service and repair facility at main office location.
Jul 2014 :Largely reduce alactricity consumption by conplete reform of air conditioning and lighting setup.
Sep 2014 :Started to sell the electric power by the installation of solar power generateor (610KW supply capability)
Sep 2015 :New Picking warehouse was established next to the assembly plant, and started the operations.
Dec 2015 : Established PT HAMANA WORKS TIRA INDONESIA in Indonesia.
Jul 2017 : Expanded the floor space of the picking warehouse.
Jan 2019 : The company's quality management system was granted the ISO 9001 certificate.
Aug 2020 :Consolidated Nagoya factory into head office factory and moved Nagoya sales office to Minami-ku, Nagoya city