Our powerful "MONSTER HAMIC" offers both maximum capacity and outstanding functionality.

Amazing load capacity!
Provides an increased load capacity of 170% compared to a 19m full trailer.

ABOUT
Center Axle Full Trailer
Traditional coupling gap reduced by 60 cm to offer increased cargo bed space
Offers more load capacity than that of a full-size heavy truck and a midsize truck combined.


By reducing the coupling gap by 60 cm, our Center Axle Full trailer offers significantly increased loading space.
Unlike the conventional model, our Full Tractor alone offers the volume capacity of a full-size heavy truck, so no loading capacity is lost when operating the tractor by itself.
Combining this straight truck with a trailer that has the load capacity of midsize truck allows for flexible response to changes in freight loads.
Outstanding functionality is not just about achieving volume.
By eliminating the dolly and integrating the drawbar with the frame, the connection is reduced to just the Full Tractor rear overhang.
As a result, maneuverability and ease of use become equivalent to that of a semi-trailer.
Even when backing up, taking curves, and parking in garages, the level of skill that was previously required to operate this vehicle is no longer necessary.
Furthermore, by means of an air suspension, driving stability is improved and load shift accidents are no longer such a big worry.
This new standard full trailer with a total length of 23 m is designed and manufactured in an adaptable way with ever-changing cargo and transportation considerations in mind.
A fusion of the Center Axle Full Trailer and the Hamic. Nothing less than the absolute maximum in load capacity and exceptional functionality. That is the MONSTER HAMIC.



Cargo Trailer Lineup
Full Trailer

OPEN

By combining the Hamic and our Center Axle Full Trailer, we have achieved an inside length of 17.9 m and a volume of 116 ㎥ in the cargo bed.
Besides the Hamic, a wide range of variations in body configurations are available, including vans and car carriers.

OPEN

Center Axle Full Trailer

Our 23 m center axle full trailer offers about 170% greater load capacity than a large full trailer.
The front and rear of the trailer have been extended by 2 m to achieve exceptional load capacity, something not often seen in traditional models.

Semi-Trailer

OPEN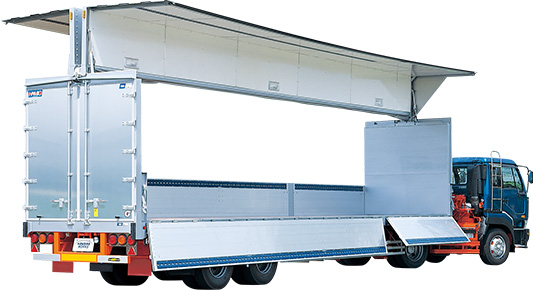 These long-bodied semi-trailers also employ the center beamless mechanism.
Naturally, as the center support beam has been removed, loading capacity can be used 100% efficiently.

OPEN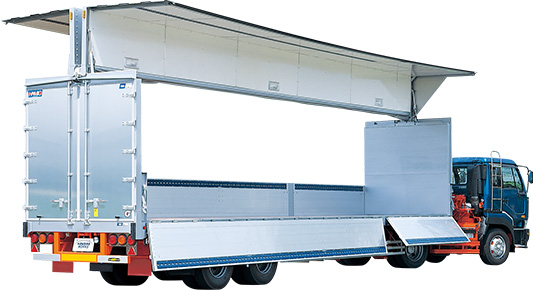 Inquiries about products
Please contact us about product inquiries from the following
Contact Us